CAPTUR3D's credit system provides a range of pricing options to suit all types of businesses - from flexible Pay-As-You-Go (PAYG) options, to monthly plans that provide you with the best possible value.
Please see below for a breakdown of our PAYG pricing structure for CAPTUR3D services. You can pick and choose what content/services you would like for each of your Virtual Tours:
PAYG Pricing
Virtual Tour Overlay (7 Credits) - This includes features such as in-tour Branding, Video Overlay, Navigation Menu, vanity URL, Lead Generation, Password Protection, URL Parameters, Map, detailed automated Analytics reports/Heat Map, as well as a Single Property Website containing all requested content for each property.


Floor Plans & Site Plans (16 Credits) - We provide full colour, branded, custom 2D and 3D floor plan designs and delivered within 12-24 hours.


Post-Production (10 Credits) - Matterport Slideshow/Highlight Reel

or

Walkthrough creation.


Photo Retouching (1 Credit) - all-round photo enhancement including colour correction/enhancement and object/clutter removal (where possible).
Monthly Subscriptions
Our monthly credit subscriptions provide between 20% - 40% extra credits compared to PAYG, based on the subscription type you choose. Monthly credits can roll over to the next month if unused.
Individual Plan = 20% extra credits
Team Plan = 30% extra credits
Business Plan = 40% extra credits
Prices are shown in AUD below, but you can select which currency you would like to purchase credits in: AUD, USD, EUR, GBP, CAD, NZD.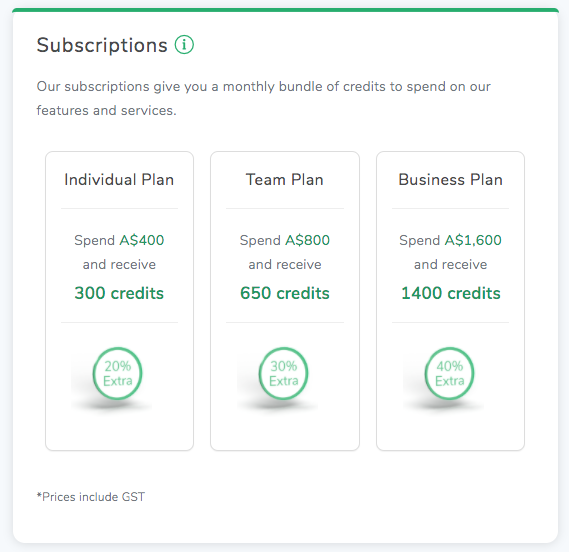 Please note: that if you change your 'Currency' within the Billing tab, it will immediately cancel any active subscription that you are currently on and you will need to select a new subscription. Any existing credits in your account will still remain - you will not lose any.
How To Purchase/Update Credits

Step 1: Click 'Credits' on the top-right menu of your CAPTUR3D Dashboard
Step 2: Under the 'Manage Credits' section, select either a Monthly Subscription on the left-side of the page, or top up your PAYG credits via the sliding scale on the right-side of the page: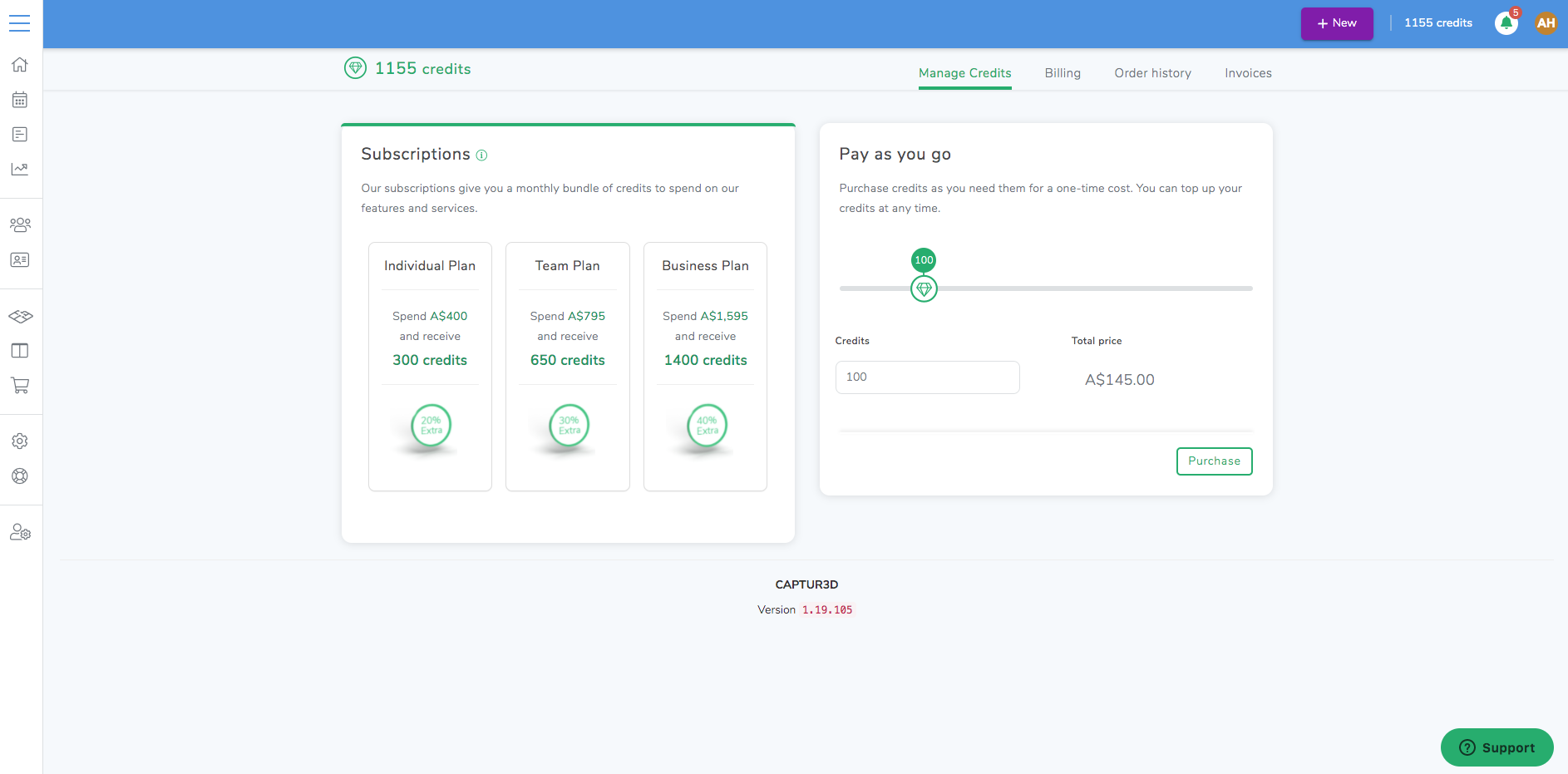 Please note: You can upgrade or downgrade your account at any time. Any previous credits you have on your account will still be available for you to use.