**Please note that CAPTUR3D Whitelablel setup can be applied to URL's on a paid Matterport account only (Starter accounts and above).
In order to set up Whitelabel Domain URL's, there are a couple of steps you will need to complete on your account. Our team will then complete the activation which can take between 48-72 hours.
Whitelabel Domain URL's can be set up for your:
Virtual Tours

Single Property Websites

Public Booking Forms
Once completed, all of your existing and future Virtual Tours will be provided with a Whitelabel Domain URL. All previous URL links to existing Virtual Tours (containing the captur3d.io branding) will still be active and work as normal.
Example
If your business name/website is '3D Virtual Tours', sub-domain can be set to www.tours.3dvirtualtours.com

Virtual Tour URL will be accessible via: www.tours.3dvirtualtours.com/view/client-name/property-address

Single Property Website URL will be accessible via www.tours.3dvirtualtours.com/page/client-name/property-address

Booking Form URL's will be accessible via: www.tours.3dvirtualtours.com/booking_form/client-name/property-address
Step 1
Setup a CNAME record onto the DNS Provider.

The CNAME source/host must be a

subdomain

(e.g

tours

.provider.com or

booking.provider.com)



The CNAME value must point to

customdomain.captur3d.io (

NOTE

: customdomain must remain as is)



Example:

tours.realty3d.com

=>

customdomain.captur3d.io



Please note:

- Some DNS servers may require you to type 'www.' before entering your custom CNAME

- Only use lowercase characters when entering your CNAME value!*


Each DNS Provider will have different setup steps, but we have included a few common DNS Providers below:


Step 2
Once Step 1 has been completed, you need to click the 'Connect to Matterport' button on your CAPTUR3D Dashboard.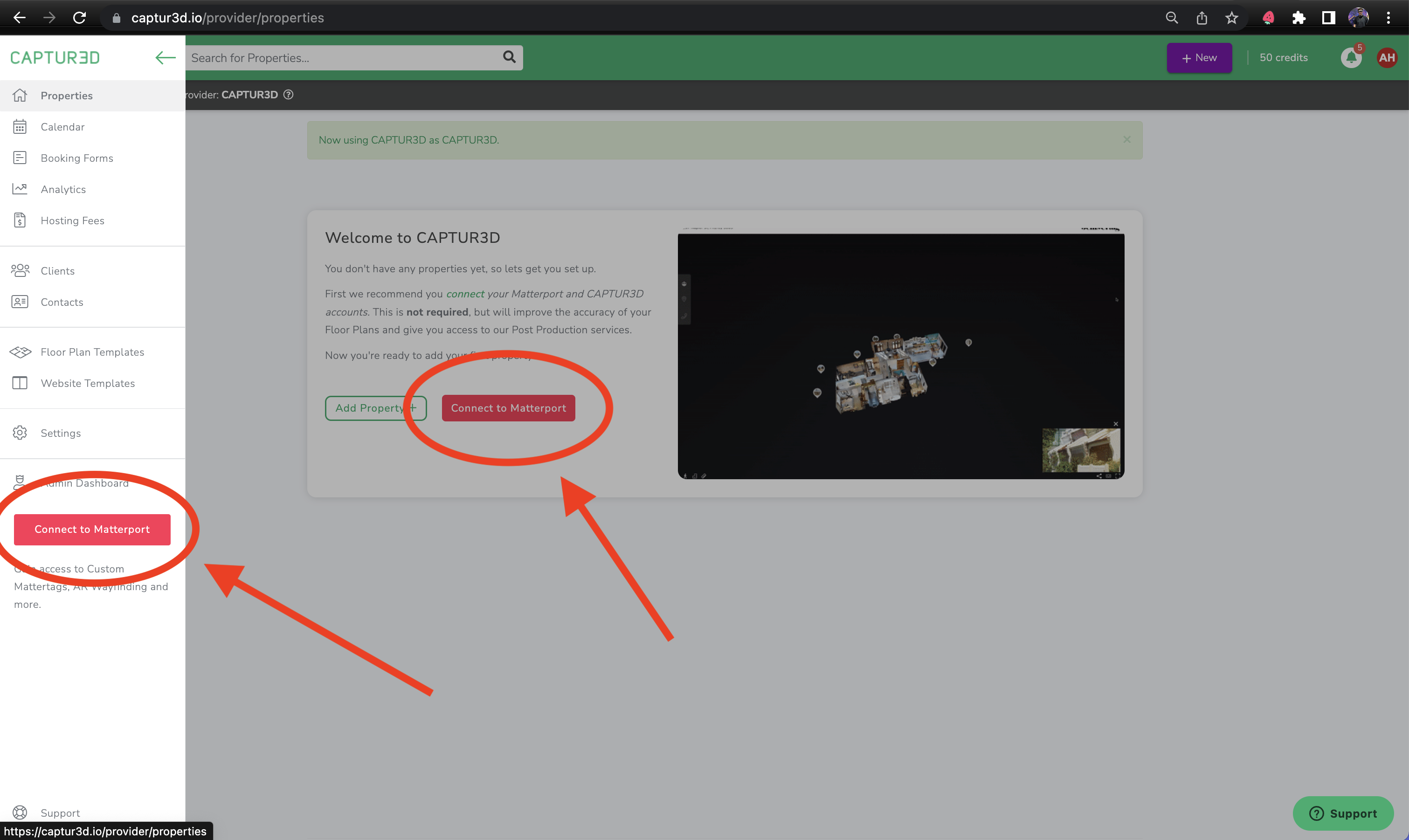 Step 3
Click

Settings

in the left-side menu of the Dashboard and then click the

Whitelabel Domain tab along the top of the Settings page.


Enter the full subdomain you set up in Step 1 in the relevant field.