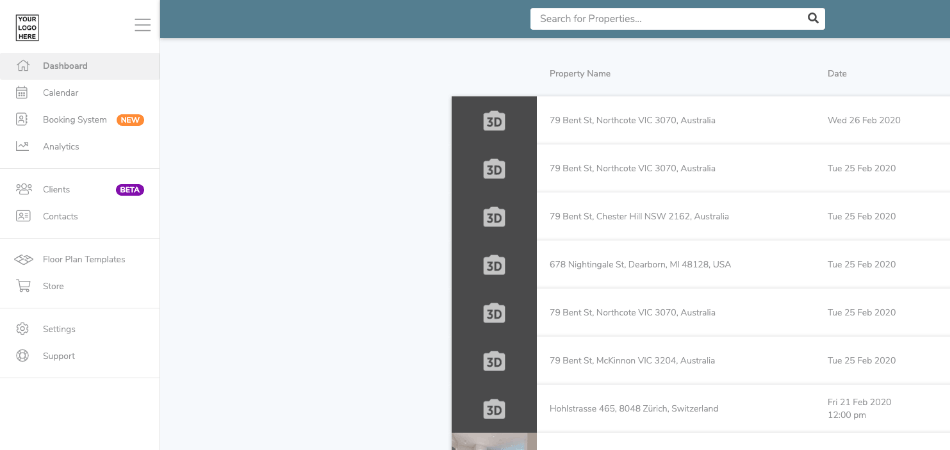 Our Client Portal gives your clients instant access to everything they need, including:

All their content to instantly view and download (Virtual Tours, Floor Plans, Photos, Single Property Websites)

Upcoming bookings

Analytics Reports
Our Client Portal can be customised with your company logo and branding - all CAPTUR3D logos and colours will be removed. This is made possible by automatically gathering all of your company's key branding information located in your 'Settings' > 'Organisation'.
Your clients will be provided access to their content only - content of your other clients will remain private.
To set up the branding for your Client Portal:

Login to CAPTUR3D

Click

'Settings'

In

'Organisation'

, upload or update your 'Company Logo' and 'Branding Colours'

Click '

Save'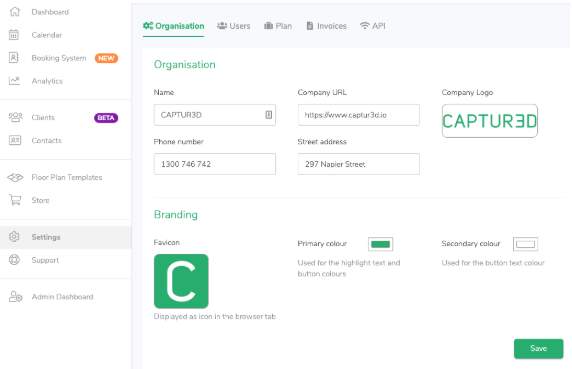 Step 2: Invite a 'User' to the Client Portal:
Click

'Clients

'

Locate desired Client and click

'Manage Users'

Click

'Invite User'

Select an

'Existing Contact'

or

'Invite a New Contact'

Click

'Invite User'
The 'Contact' you have chosen will then receive an invitation email. They will then be able to login to your Client Portal and access, delete, view and download all the content relevant to them only.


For example, if you have 30 properties/projects in your CAPTUR3D Dashboard in total, and 10 of these 30 are associated to 'Client 1', when you invite a 'Contact' associated to 'Client 1', they will only be able to see the 10 properties/projects associated to them in your Dashboard. This ensures all your content for other clients remains private.