CAPTUR3D's Media Embed feature allows you to integrate videos and images directly into your Matterport Virtual Tours.
Current compatible file type is .mp4 .png or .jpeg with a maximum file size of 100mb per file.
You can scale, rotate and position your media in the same way as you can with your 3D assets in Virtual Staging, to ensure they fit exactly where you need them.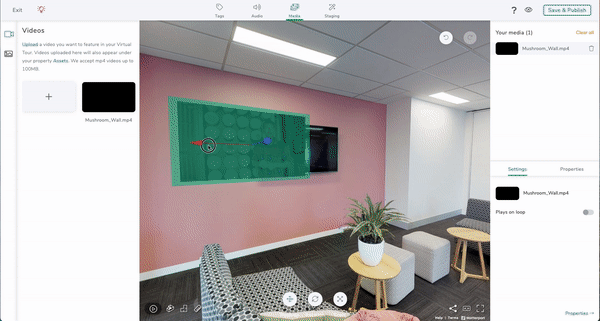 You can also customise the audio and playback settings for each piece of media content via the 'Settings' tab on the right-side menu. Here you can toggle the media to:
- Play 'On Loop'
- Auto play 'On Start' of the Virtual Tour loading, or 'On View' of when the Media becomes visible within the tour
- Audio on/off
- Muted on start